Not so long ago it was unthinkable that any bride worth her salt would have anything but a wedding cake at her wedding. However, today, the options are endless and many brides are choosing anything but a wedding cake to take center stage at their weddings. If you are thinking of stepping away from tradition, we have a few cake alternatives to guide you along the way.
Wedding Pies
Wedding pies are a rustic, inexpensive and tasty alternative to wedding cake. After all, who doesn't like pie? Pies come in a plethora of flavors, but our personal favorites are southern sweet potato pie and Dutch apple pie. Don't think that just because you chose a pie means that you can't personalize it. Have your baker carve your initials in the crust or cut out small designs to add a personal element to your pie. Or, add a cake topper.  Make that a pie topper!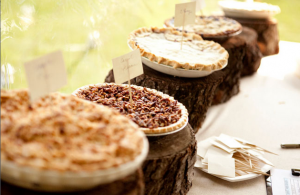 Wedding Cupcakes
Cupcakes are whimsical and fun and who doesn't want that at their wedding? Think of them as mini cakes because what can be done with cakes can be done with cupcakes. Select a rich, red velvet cupcake topped with cream cheese icing and your initials for a delicious alternative. If you decide to eschew a monogrammed topper, go for edible flowers which look amazing when coupled with an outdoor reception. You can't go wrong with cupcakes especially since they can be eaten while you're dancing away on the floor.
Wedding Doughnuts
Oh how we love Krispy Kreme. The hot, buttery melts-in-your mouth doughnuts have gotten us through many a late night. However, you don't always have to run to Krispy Kreme if you want to include doughnuts in your wedding. Many bakeries sell homemade customizable doughnuts. Go for a filled doughnut and have an elegant monogram placed on top. You can also search for a stunning candleholder and place the doughnuts on them or stack them in a tower for an edible piece of décor that is sure to disappear from the table.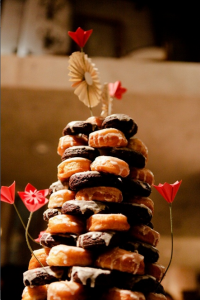 Gluten-Free Options
With knowledge of wheat allergies and Celiac's Disease becoming more common, it is not unheard of to incorporate gluten-free desserts in your wedding. Fortunately, most of the above desserts can become gluten-free by substituting regular flour for wheat-free flours. The best thing is that you won't have to sacrifice taste.
We hope our guide has helped you find a fantastic alternative for a wedding cake. Don't hesitate to buck tradition in favor of fantastic pies, cupcakes and doughnuts, because no one will turn them down. Just be prepared to see your guests leave the dance floor for the dessert line.
—
Based in Los Angeles, SimplyBridal is an online retailer of wedding gowns, bridesmaid dresses, and wedding accessories. In addition to providing excellent customer experience, SimplyBridal seeks to create valuable resources for brides.