Toppers With Glitz in the Media














Click an image to view the details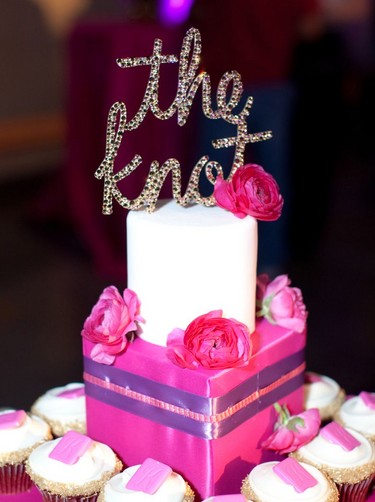 The Knot
I had the opportunity to provide a cake topper for The Knot. Here's what I received after the event:
Dear Sari,

Thank you for helping to create an extremely successful event at The Aquarium of the Pacific on Wednesday night. To say it was a love-fest on September 23rd, is the understatement of the year! I have spent the past few days fielding compliments, kudos and recognition for a tremendous event, and it is in large part due to your dedication to providing an extraordinary product! Your attention to detail on our corporate logo was truly amazing and I have heard nothing but rave reviews! Thank you for helping to make The Knot Wedding Network shine. I promise you, that cake topper will be used by The Knot for years to come. I did not want another day to go by without a truly sincere, thank you.

Shannon Ratcliffe - Account Executive, The Knot Inc.
Platinum Weddings
Tina LaMorte, a wedding planner I frequently work with, was featured on Platinum Weddings and thought one of my toppers would be the perfect finishing touch for the cake. It's featured at the end of the clip. The couple, Deneris and Hector, used their custom logo throughout the wedding, which I was able to turn into a topper for them.
If you have trouble viewing the video, click here to watch it on YouTube.
Disney's Dream Weddings with David Tutera
Disney's Dream Weddings was a one-time show featuring David Tutera helping brides plan their weddings at Disney resorts. Watch toward the end to see one of my toppers and crystal cake trim incorporated into one of the weddings.
If you have trouble viewing the video, click here to watch it on YouTube.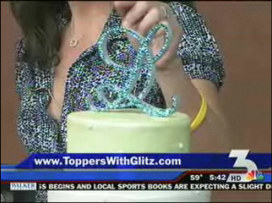 NBC TV
NBC Las Vegas featured Toppers With Glitz during a segment on women in business.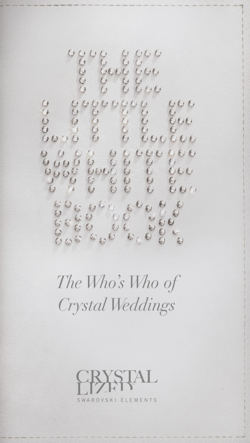 Swarovski's Little White Book
MADE WITH SWAROVSKI ELEMENTS is the product brand for loose, precision-cut crystal manufactured by Swarovski and The Little White Book is a collection of the best designers, companies, and brand name products that use these elements in their designs.  The booklet was released by Swarovski as a resource to help create a personalized crystal wedding. The Little White Book launched in the winter issue of Elegant Bride magazine and features some of the most recognized designers in the world (Vera Wang, Badgley Mischka, Diane von Furstenberg) and Toppers With Glitz is honored to be among them.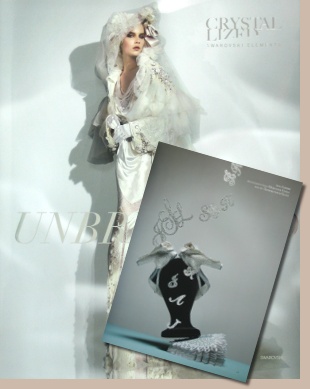 Swarovski's Unbridaled
Toppers With Glitz is featured along with such prestigious names as Reem Acra and Giorgio Armani in Swarovski's Unbridaled wedding showcase. This coffee-table book, commissioned by Swarovski, features some of the most recognized designers in the world and I'm honored to be included.
From the jacket:
Swarovski especially commissioned world-renowned designers to create the one-of-a-kind wedding designs featured in this book. They represent the beautiful fusion of design skills and creative spirit, illuminated by the brilliance of crystallized Swarovski elements. These unique pieces took more than a year to bring to their full-blown, glittering perfection and will fire the imagination and bring delight to any woman contemplating that very special day. These are designs that would make any bride's dreams come true...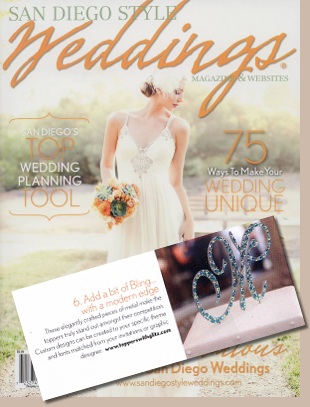 San Diego Style Weddings
Toppers With Glitz was featured in San Diego Style Weddings magazine as a 'FAB Find.'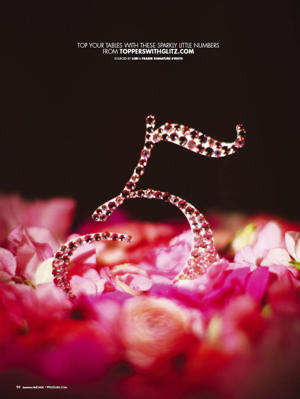 WedLuxe Magazine
Toppers With Glitz was once again featured in WedLuxe, Canada's Luxury Wedding Magazine. A custom crystal table number was one of the items provided for the shoot and is pictured here.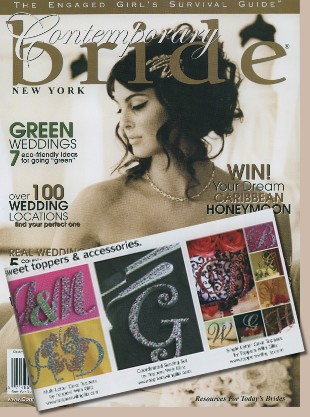 Contemporary Bride Magazine
Toppers With Glitz has been featured in both the New York and New Jersey editions of Contemporary Bride magazine.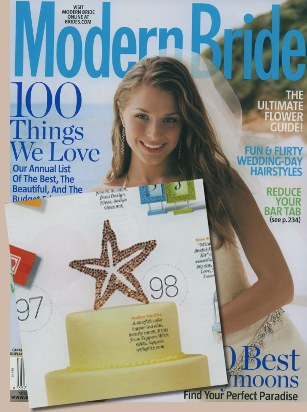 Modern Bride Magazine
Toppers with Glitz was featured in Modern Bride Magazine, one of the top wedding magazines, as one of the '100 Things We Love.'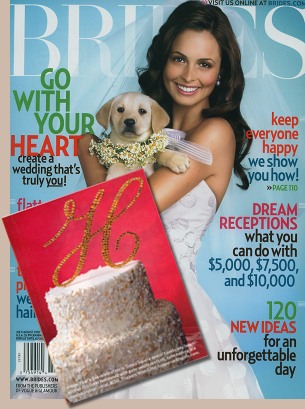 Brides Magazine
Toppers With Glitz has been featured in the #1 circulated wedding publication, Brides Magazine.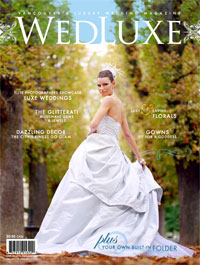 Wed Luxe Magazine
Vancouver's new luxury wedding magazine, WedLuxe, went looking for "What's Fine Online" and found Toppers With Glitz! We were featured in their premiere issue.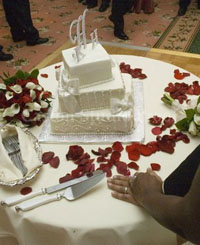 E! Entertainment Television
A television reality series based on a book by Dr. Phil included a participant's 'reveal' at her wedding in Richmond, VA. Toppers With Glitz was asked to provide the monogram cake topper (pictured left) as a special surprise for the bride.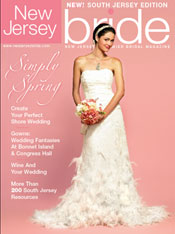 New Jersey Bride Magazine
Toppers With Glitz has been featured in New Jersey Bride magazine as an 'editor's pick.' This was my very first magazine feature.
Copyright 2005-2023 Glitz Toppers Incorporated, all rights reserved. See
policies
page for permissible uses.