Why Choose Toppers With Glitz

hen Swarovski needed something unique for their book Unbridaled, they called me. When they were organizing their Crystal Weddings to Remember event, they called me again. When a topper was needed for an event The Knot was throwing, they came to me to create it. The Executive Pastry Chef at The Ritz-Carlton in Dallas calls me, too. Each of these companies (and many more) have used me not once, but multiple times. They repeatedly choose Toppers With Glitz because they can rely on my design decisions without having to micro-manage, they don't have to worry about the quality of the piece they'll receive, and they know I'll deliver on time. You can rely on me, too.

am a detail oriented perfectionist and it shows in my work. I take pride in my ability to blend and arrange the stones to avoid distracting patterns and create a continuous flow. It is for this reason that the pictures on my site are close-up shots wherever possible so you can see the detail first hand.

am an official Swarovski partner (partner number 115 1243), an exclusive program that required application and acceptance. You can be sure that all products are MADE WITH SWAROVSKI ELEMENTS that sparkle like crazy. I offer complementary crystal samples so you can see your selections in person and be confident in your decision. I am always happy to offer suggestions and may even do so without being asked. I'm never short on opinions and I try to do everything I can to ensure you'll love your Topper!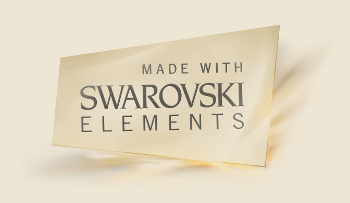 nstead of cutting corners and using a lower grade material, I insist on using lightweight aluminum to achieve the elegant look that is a Glitz Topper. All letters are silver in color with the option of upgrading to a gold coating. I only use metal because I wouldn't risk thinner parts of your letter breaking were they made of plastic. The goal is to make a product that you'll want to keep forever, so I make sure it will last that long.

ustomer service doesn't end when I ship your topper. I track the package every day to make sure nothing goes awry with shipping. If a notice is left by the courier, you may actually receive an email from me before you see the notice itself. These kinds of details are important to me, but all too often overlooked by other companies.
About Toppers With Glitz

oppers With Glitz is a 100% woman-owned business based in Denver, Colorado, founded in 2005. Since then I've been providing only the highest quality crystal products with unparalleled customer service to brides all around the world. Each piece is custom made with pride to perfection. I do one thing and I aim to do it the best. My devotion to you, and my product, shows in the quality of my work. Thank you for your interest in Toppers With Glitz!

ari

atkins
Copyright 2005-2023 Glitz Toppers Incorporated, all rights reserved. See
policies
page for permissible uses.